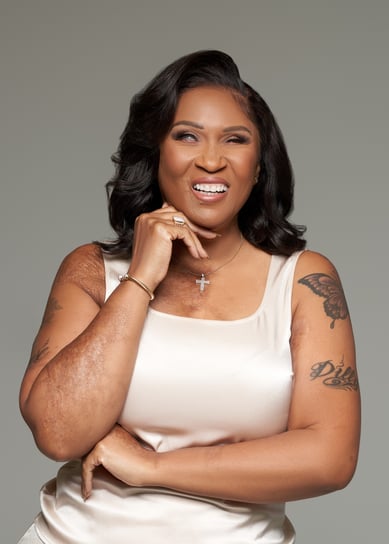 Sabrina Greenlee: A Story of Triumph Over Domestic Violence
Join Us for our 6th Annual Healing & Hope Luncheon featuring Sabrina Greenlee, a nationally celebrated community activist, author, inspirational speaker, and domestic violence survivor who has dedicated her life to facilitating women's growth and evolution.
Houston Marriott Sugar Land
Thursday, October 19th, 2023
11:00 am - 1:00 pm
Sometimes the greatest heroes are those who rise from the shadows of despair, turning pain into empowerment. Sabrina Greenlee's story highlights the human spirit's resilience in the face of overwhelming adversity. Fort Bend Women's Center is proud to have Sabrina as the keynote speaker of this year's Healing & Hope Luncheon on October 19th at the Houston Marriott Sugar Land.
Early Life and Struggles
Sabrina Greenlee's journey through domestic violence began at a very young age, and she has endured immense personal trials. Her story involves a series of abusive relationships, beginning in her teens, that cast a dark shadow over her life.
A defining moment came when Sabrina was horrifically attacked by a woman who threw a mixture of lye and bleach in her face. The incident left her blind and disfigured, but her spirit remained unbroken.
Rising from the Ashes
The path to recovery was a long and painful one. Sabrina faced multiple surgeries and endless hospital visits. Yet, it was her inner strength and faith that helped her heal not just physically, but emotionally.
Her determination not only helped her overcome personal trauma, but also fueled her desire to help others facing similar circumstances. Sabrina decided to transform her pain into a mission, taking up advocacy for domestic violence survivors.
Advocacy and Impact
Sabrina Greenlee founded the non-profit organization, S.M.O.O.O.T.H Inc. (Speaking Mentally, Outwardly Opening Opportunities Toward Healing), aimed at helping domestic violence victims and their children. Through workshops, support groups, and counseling, S.M.O.O.O.T.H has become a beacon of hope for those who have endured abuse.
Her efforts have also extended to awareness campaigns, public speaking, and collaborating with other organizations. Sabrina's story has been an inspiration to countless individuals, showing them that it's possible to rebuild and lead a fulfilling life after abuse.
A Mother's Pride
Perhaps one of the most well-known aspects of Sabrina's life is her relationship with her son, DeAndre Hopkins, the star NFL wide receiver. DeAndre has publicly praised his mother's courage and strength and is an ardent supporter of her advocacy work.
Conclusion: A Symbol of Strength
Sabrina Greenlee's story is a testament to human resilience, compassion, and the will to make a positive change. Her relentless pursuit of healing and her dedication to helping others serves as an inspiration to all.
Her journey from victim to advocate underscores the importance of support and understanding for survivors of domestic violence. It reminds us that with determination and love, it is possible to transform even the darkest moments into a force for good.
Sabrina's voice resonates with many, and her work continues to impact lives every day. Her legacy serves as a beacon of hope for those in need and an exemplary model of turning personal tragedy into triumph. Together, we can work towards a world where domestic violence is a thing of the past, and every survivor finds the strength to begin anew.
Top of Form